Hubbard Creek Outfitters LLC
The Hubbard Creek area is a scenic mountain wonderland located in Western Colorado located on the world's largest flat-top mountain. You will find excellent Colorado big game hunting for Colorado Elk, Deer, Bear, Moose and Exciting Game Bird Hunting, wildlife photo opportunities and lots of fishing.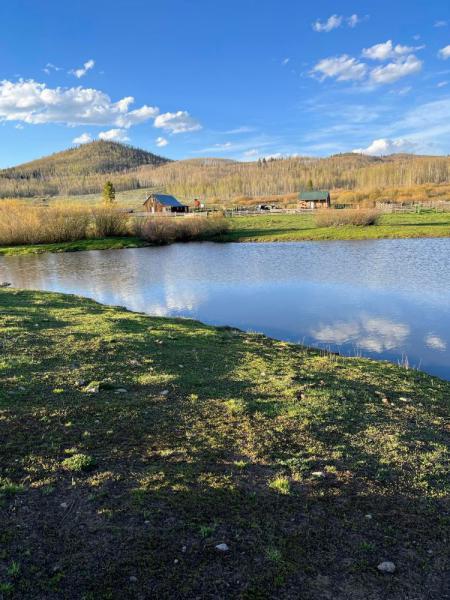 Hubbard Creek Outfitters is locally owned, family business licensed and bonded as required by the State of Colorado, owned and operated by Dustin Braslin located in Paonia, Co. The business has been operating for over 36 years, with many satisfied clients that have returned year after year for our quality service and excellent big game hunting.

In the hunting seasons we offer several drop camps as we pack into the higher mountains in the Gunnison National Forest on 521. We have quality camps, as it be by tents higher up or at our cabin. We also run Private Land Hunting on 6,000 acres with Gunnison National Forest boarding the backside. So if you're a Bowhunter, Black Powder hunter or Rifle enthusiast, come visit us for the best in big game hunting for Bear, Deer, Elk & Moose plus game bird hunting.

Our Summer days are full of fun from guided horse pack trips as well as guided daily rides in the beautiful mountains of the Gunnison National Forest. If you enjoyed your hunt with us, bring the family back for some mountain therapy time on the horses. We will pack your family back into the forest for a camping experience of a lifetime.

Hubbard Creek Outfitters is located in Paonia, Colorado on the Gunnison National Forest which is on the Grand Mesa's, largest and tallest flat top mountain in the world!
~What we offer~
~Archery Season- Guided/Unguided Hunts
~Muzzle Loader Season- Guided/Unguided Hunts
~ Rifle Season- Guided/Unguided Hunts
~ Fully Guided Moose Hunts
~Remote Horseback Colorado Guided Hunts
~ Remote Horseback Day Rides
~ Remote Horseback Camp Trips
For more information on Hubbard Creek Outfitters and what we offer,
email us at hubbardcreek24@gmail.com or call Dustin Braslin at (970)-201-2278. We would love to hear from you!
Hubbard Creek Outfitters is an equal opportunity service provider and employer and operates under permit from the USDA Forest Service,
Grand Mesa, Uncompahgre and Gunnison National Forest.