Suggested Gear List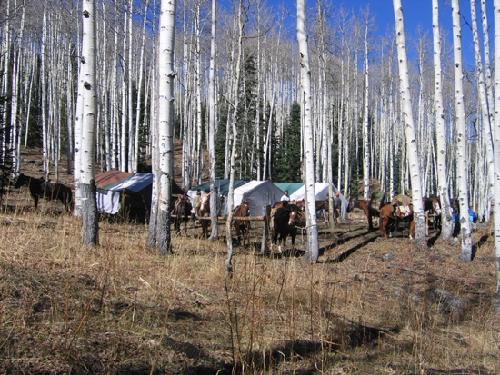 *Be Prepared for your Colorado Hunt
Please read the Colorado Parks & Wildlife Rules and Regulations: https://cpw.state.co.us/
Everyone that is hunting needs a Hunters Safety Card (if born after Jan. 1 1949 State Law) Unless Already Verified With The State of Colorado.

This is just a Suggested Gear List from Hubbard Creek Outfitters none of it is required, with the Exception of an Orange Hat & Vest, during Rifle & Muzzleloader Season
Archery Hunters:
Bow & Arrows
Broadheads & Practice Tips
Spare String & String Wax
Sight Pins
Small Allen Wrench
Release
Wind Checker
Range Finder
Binoculars & Headlamp with Extra Batteries
Knife, Matches & A Small Survival Kit
Orange Flagging
Daypack or Backpack with Hydration Bladder
Water Bottle
License (unless you are purchasing when you arrive)

Rifle / Muzzle Hunters:
Rifle & Ammo
Spotting Scope & Shooting Sticks
Anti-Fog Wipes
Wind Checker
Range Finder
Binoculars & headlamp with extra batteries
Knife, matches & a small survival kit
Orange Flagging
Daypack or Backpack with Hydration Bladder
Water Bottle
License (unless you are purchasing when you arrive)
Hand Warmers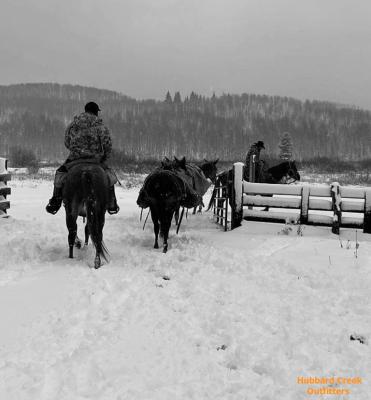 Clothing & Personal:
Quiet Rain Gear / Outer Shell
Base Wear (medium to heavy weigh)
Hats, Gloves, Long Underwear ( in the later seasons)
Extra Waterproof Boots
High Quality Socks & Sock Liners (wool Recommended)
Several Pairs of Hunting Clothing and Heavy Jackets
Dressing in Layers is the Best Policy and Wool is Highly Recommended in the Later Seasons
Clothes & Shoes for relaxing at night at Camp
Chapstick & Scent Free Sunscreen
Scent Free Soap / Shampoo
Personal Toiletries & Belongings
Ear Plugs ( for Snoring)
Water Purifier
Drinks, Food & Snacks of your choice

~​Those Hunting at the Drop Camps will NEED to Bring a Warm Sleeping Bag, Pillow, towels & WashCloths.

~Archery Hunters bring plenty of Camo Clothing and Jackets
~Rifle & Muzzle Loading Hunters are required to Wear an Orange Hat and an Orange Vest during your Hunt. State Law is 500sq Inches on the Head, Chest & Back.

** Colorado has very unpredictable weather in the Fall. It could be 60 Degrees during the Day and below 10 degrees in the Morning during Rifle Season, and 90 degrees in the Day and 20 in the Morning during Archery. Dressing in layers (long underwear) is the best way to combat the cold. You can't go wrong with wool clothing in the later seasons.
What We Provide
What we WILL PROVIDE for you at the Drop Camp:
2 16x20 Waterproof Tents & Tarps
Wood Heating & Cooking Stove
3 Burner Propane Stove with propane
Ax & Shovel
All Necessary Cooking & Eating Utensils
Fire Extinguisher & Med Kit
Cot & Foam Pad for Each Hunter
Fire Starter & Lighter
Wood cut & Stacked
Water - Either Natural or Water Cans
Small Folding Chairs
Propane Lanterns with Propane
Toilet Facility, Toilet Paper & Paper Towels
Plus any Other Necessary Camping Equipment

~ ​If you are staying at Hubbard Creek "Basecamp" Cabin it is completely outfitted with all bedding & linens, towels & cookware. There is also WiFi that is available for you to use.
~We Provide Game Packing for All Drop Camps. Hunters should come prepared to take care of game for at least one day - All Game Bags etc.. We will transfer your game to the local meat processor located in Hotchkiss Co.